Why I Want to Know Your Salary
Earlier this month, HBR published an article on the recent legislation banning questions about salary history, and why it might not improve pay equity. As more states adopt similar laws, asking candidates about their salary history has become another taboo piece of information that employers can't ask for or don't want to know. Companies won't be able to use recruiting agencies to get around this on a technicality either.
If this is such a controversial subject, then why do I, and employers want to know your salary? It has nothing to do with the gif below, but I left it there because I love pop culture references and it's topical.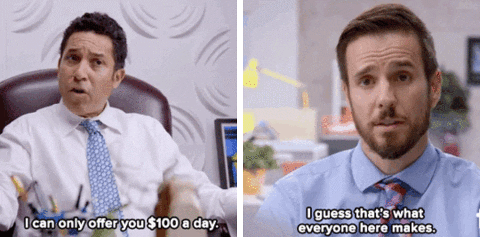 To be honest, most recruiters and hiring managers want to know your current salary because it gives us some reassurance that, at least as far as salary is concerned, if you're presented with an offer then you'll be likely to accept it. If we can see that a potential offer would mean an improvement to your lifestyle, or a lateral move or even a salary cut (where other motivators like desired equity, culture fit, or responsibilities match up), then we can be more confident that moving forward is the right decision for everyone.
It's really that simple. An insane amount of time and costs go into interviewing candidates, and in an ideal recruiting process amazing candidates are getting rejected or put on hold in favor of even stronger ones. When you accept an interview or move forward in the process you're often taking up one of those limited slots, the hiring team's time, and the company's resources (not to mention using your own time and PTO). There are other reasons we want this information as well, employers often collect their own industry data to help determine what they should be offering and what they should be paying their current employees. I can't tell you how many times I've worked without having a salary band or hiring budget in place; yes, there are established salaries for some traditional roles, but for a lot of the current careers (especially in the technology space) the appropriate salary for a particular role can change significantly by industry and company. What about paying based on the value a particular role contributes to the business? There isn't a magic formula for determining what a business should pay someone, and salary comparison guides rarely work (O*Net, please just don't), especially as roles evolve or new careers are created (remember Growth Hackers?).
In my time working with startups I have never seen someone's current salary used to limit their earning potential, and I've even seen some people receive massive increases to their previous compensation or take significant cuts. Unfortunately, there are some industries where archaic practices like the 10% rule are still in place. For those that aren't familiar, the 10% rule is an outdated method for determining what an offer should look like based on a 10% increase to a candidate's current salary, and in my opinion, it's one of the best justifications for the recent legislation.
Is this the right move though? Just as allowing employers to ask for salary history won't eliminate pay disparity and can make it worse, preventing it won't solve the problem either (and in some instances it can exacerbate it). The industry needs to lead the charge by helping companies and candidates navigate the recruiting process, and I think we can all be a part of the change if we follow these four guidelines.
Employers, create established salary bands and headcount budgets for each role and stick to these as you hire. What if you have an amazing candidate but need to pay them significantly more? Walk away, create a new position for them, or reband the role (and the salaries of your employees already doing that job). If you hire that candidate at the increased pay level and already employ other people for the same job at a lower level, then you risk exposing your company to wage discrimination practices and pay disparity, unless you're prepared to increase those current employees' salaries as well.
Candidates, trust a little bit more. Get comfortable having an honest conversation about compensation and letting us know what really motivates you. Regarding negotiation, it benefits everyone to set expectations at the beginning, and in a transparent recruiting process it makes absolutely no difference who speaks first when discussing salary.
Recruiters, HR Managers, and Hiring Managers, create a recruiting experience that engenders trust and allows for transparency on both sides and provide training and opportunities for interviewers to get more experience.
No one should be afraid of missing an opportunity or falling for the sunk cost fallacy. Don't be afraid to hold your ground or walk away if you think you're at the final step and a hiring manager, recruiter, or candidate throws a curveball.
Until the industry changes, pay disparity will continue to be a major issue and legislators will need to step in to protect employees. As ineffective as I think these new laws will be, I personally think that it's better than nothing.
What is your company doing to help eliminate pay disparity?
Please reload